Humane Manufacturing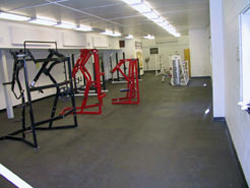 Call
Tel: 608-356-8336
Fax: 608-356-8338
Toll Free: 800-369-6263
Write
Humane Manufacturing
805 Moore Street
Baraboo, WI 53913
United States of America
Welcome to Humane Manufacturing Company LLC. We are a manufacturer of high quality molded rubber mats and rubber flooring products using a vulcanizing process which utilizes as its base ingredient post-consumer waste stream material, mainly rubber tires.

The principal markets served for our rubber flooring products are: Dairy Cattle Mats, Equine Stall Mats and Flooring, Dog Kennel Flooring, Industrial Anti-Fatigue Flooring, Interlocking Weight Room Flooring and Fitness Flooring, and Roof Pads for membrane protection. We will also manufacture mats for special OEM projects to your specifications.
Brands: Humane Manufacturing
---
Humane Manufacturing Rubber Flooring
Website
Humane Manufacturing's goal is to provide quality products manufactured from recycled rubber materials and from value added services that meet or exceed our customer's expectations.
Web Design
Wednesday, October 20, 2021