DuChateau Floors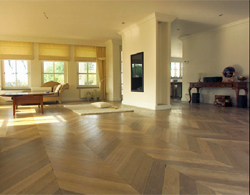 Call
Tel: 619.793.5899
Fax: 619.819.9433
Write
DuChateau Floors
1501 Front Street
Suite 115
San Diego , CA 92101
United States of America
DuChateau Floors are antique reproduction hard-wax oil floors developed in Holland. Our hardwood floors are designed to reflect the styles found in Europe from centuries ago. DuChateau Floors' goal is to recreate the same time worn look that showcases the character and longevity of a hardwood floor. Our hardwood floor production philosophy is to create textured hardwood floors with changing grain pattern of the natural wood characterizing true artistic design.
DuChateau Floors have a character of timelessness that fits with nearly every décor. They create warmth and coziness with lovely acoustics. DuChateau Floors are ideal for commercial and residential applications.

Our Production Methods

DuChateau Floors produces top quality, wide planked hardwood floors that are distressed, hard wax-oiled, smoked, and wire brushed to achieve a true vintage look.

Distressing
Distressing a new floor means that the floor maintains its perfect fit, but takes on the look and character of a vintage floor. There are several methods for distressing floors, the most commonly used and most accepted is hand-scraping. Hand-scraping hardwood flooring if done by an artisan craftsman as it was done in Europe centuries ago will improve the look and feel of the floor as well as adding much desired character. All DuChateau flooring is hand-scraped by master craftsmen.

Hard Wax-Oiling
The patina of the wood floor is determined primarily by the type of wood used and its natural color. By finishing the wood with natural oils the ultimate color of the floor with flourish. Oiling the floor will partly retain its open structure making it relatively easy to maintain. New developments involving UV wax and oil finishes have eliminated the disadvantages of smudge / dirty floors and allow the wood to maintain the same appearance as when treated with conventional lacquer techniques. DuChateau floors Duofloor Collection are finished with UV wax oil

Smoking
When smoking a floor, the tannins in the oak wood reacts to the burn, thereby giving the floor a darker and grey appearance, the extent of which depends on the duration of the treatment. Since not every part of the floor will contain the same amount of tannins, one section could appear darker than the other. The result is a rustic and authentic look.

Brushing
Certain styles of DuChateau Floors are wire brushed to give them an extra accent. Brushing removes the soft wood from the floor and brings out its texture. Minor scratches and damage become less apparent and gives it a slightly rustic look. Combined with colored oil, brushing can give the floor a unique and characteristic appearance. Wire brushed floors can be maintained using the same methods as a floor that has not been brushed.
Brands: DuChateau Floors
---
DuChateau Deluxe Luxury Vinyl
Website
The Vinyl Deluxe® Classic Collection is our signature luxury vinyl tile flooring.
Web Design
Monday, November 29, 2021