Werner Co.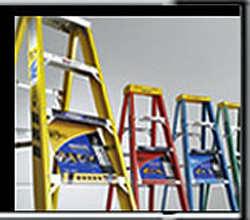 Write
Werner Co.
93 Werner Road
Greenville, PA 16125
United States of America
Werner is a fully integrated manufacturer and distributor of fiberglass, aluminum and wood climbing products. Our products are backed by over 60 years of state-of-the-art product design, thorough testing, and evaluation experience, making us the leader in climbing equipment. We manufacture a full line of safe, professional-grade products for any job and build them to withstand even the most challenging professional jobs. Werner ladders are found on more trucks and on more job sites than all other ladders combined. They are the pro's choice in ladders.

Werner ladders have a history of innovation in design and manufacturing. We use cutting-edge technology and continue to expertly craft our products by researching and upgrading facilities and practices year after year. Our products have enabled us to hit several key milestones over the years. And from the development of the Werner Performance System®, which helps ladder buyers choose the perfect ladder and educates the consumer about ladder safety, to the EDGE® Professional Bracing system, which provides enhanced bracing strength and increased protection against rail damage, it shows that we strive to make the safest climbing equipment available.

All Werner products are designed and manufactured to rigorous quality standards and with a common goal of building the safest climbing equipment possible. Our products meet or exceed all applicable American National Standards Institute (ANSI) and Occupational Safety and Health Administration Code (OSHA) requirements.

The first generation of the Werner family built the original business of floor coverings and moldings into a diverse supplier of aluminum extrusions and end products. Today, Werner continuously enhances quality and safety. The company's willingness to take risks, explore new markets, capitalize on opportunities, and always look to the future has enabled it to transform into the world's largest climbing products manufacturer.
Brands: Werner Co.
---
Werner Ladders
Website
Werner Co. is a professionally managed business built on a strong family heritage with a commitment to delighting customers.
Web Design
Thursday, October 29, 2020