Constantine Commercial LLC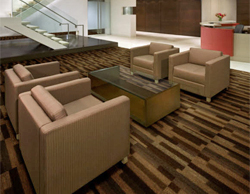 Call
Fax: 706-278-6892
Toll Free: 800-308-4344
Write
Constantine Commercial LLC
200 Fair Street
Calhoun, GA 30701
United States of America
Constantine was founded on the notion that the best product wins. We believe in pioneering new ways to bring original and exciting products to you. We believe the best product is many things...innovative, durable, aesthetically pleasing, and most of all it exceeds your expectations. We believe that there is value in having aesthetically coordinating flooring materials across an entire line of products and making that easy through a simple color reference system. We believe in the development of a large variety of exquisite, subtle textures that can enhance your environments, not dominate them. We believe your complete satisfaction is the measure of our success.
Brands: Constantine Commercial LLC
---
Constantine Carpets
Website
Constantine incorporates a patented, high density tufting process called Multiple Yarn Infusion, which significantly differentiates us from other manufacturers.