branded carpet fiber
Branded Carpet Fiber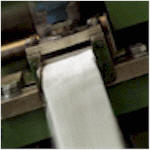 Branded carpet fiber is a popular term in carpet manufacturing. There are many brands of nylon on the market today. Many times, yarn is referred to as branded on who the fiber manufacturer is. Branded simply means that a "brand" name has been registered in the U.S. Trademark and Patent office for that yarn. Yarn may also be referred to as unbranded if the actual yarn make-up is the same as the branded yarn, but is not marketed as such. In this case, the price of the "unbranded" yarn is less than the "branded" yarn.

In recent years the makers of branded carpet fiber, particularly nylon fiber, have been marketing themselves directly to the consumer using performance brands like Stainmaster, Crush-resister, and Wear-Dated. You'll find these names and others on labels fixed on the back of many samples you view in the course of your shopping. They may warrant the carpet against staining, soiling, matting, and crushing for five or even ten years. Many warranties are also offered by the carpet manufacturers.

Branded carpet fiber usually indicates additional product innovation and state-of-the-art technology as well as stringent performance testing. DuPont Stainmaster®, Solutia Wear-Dated®, and Allied-Signal Anso® are examples of branded nylons.
Fibers: acrylic | nylon | olefin | polyester | wool
See Also: blended | yarn economics | yarn processing
©2010 FloorBiz, Inc. All Rights Reserved
Flooring | Flooring Guide | Flooring Info | Flooring Forum