Shaw Flooring
Shaw Wood Floors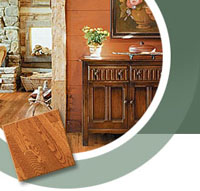 Shaw wood floors incorporate many different processes that define the look of their natural hardwood flooring. Factors such as species of the tree, where it grew, rate of growth, part of the tree being used, are all carefully considered for they all determine your flooring's unique character.

Also, the closer a plank is cut to the center of the tree, the darker its overall tone. Lighter boards came from closer to the bark. Knots indicate that a limb grew from that spot. Growth rings, determined by climate trends and mineral and nutrient absorption, determine grain pattern.

While all these characteristics impact the appearance of finished boards, they do not determine the strength. Strength is a factor unique to the individual species being considered. For example, comparing a piece of oak plank flooring to one made from pine, one notices right away that the pine is more susceptible to denting and marking than the oak due to it's inherent 'softness'. This doesn't make pine any more or less desirable than oak for they both have their own unique qualities.

Whether you are looking for a formal, classic, or rustic setting, the choice is yours. Shaw wood floors are extremely adaptable and can be used in any design environment to create that perfect ambience. All Shaw Hardwood styles are protected by an aluminum oxide enriched DuraShield XL finish, which lasts up to seven times longer than conventional UV cured urethanes. Keep in mind that grain and color variations are also natural characteristics of hardwood flooring, and the degree of variation is generally divided into three categories:
Select
This category is identified by subtle character marks with refined grains and even color tones. These carefully selected inner cuts from the heartwood portions of the tree provide an elegant, flowing visual that will accentuate the beauty of any room.
Classic
Characterized by significant differences in grain size, random mineral marks, and moderate variations in color. Classic wood floors exhibit a traditional beauty and richness that makes them popular from generation to generation.
Rustic
Broad variations in grain and color, distinguishing knots, and mineral streak highlights are unique characteristics of rustic wood floors. Each installation creates a natural charm and warmth that makes a distinctive design statement in any home.
Shaw Laminate Floors
Experience a new dimension in laminate flooring with Shaw's unique VersaLock flooring system. This revolutionary product advancement allows your floor to be installed quickly and without glue so there's no messy cleanup and you can walk on it right away! This is made possible by a patented locking technology that reliably secures the flooring panels on all four sides without adhesive. As an added bonus, a VersaLock floor is warranted against moisture damage and can be easily taken apart and reassembled.

Shaw's VersaLock Laminate flooring collection includes an impressive array of traditional, rustic, and exotic wood grain designs that will enhance any room in your home. The collection also includes unique tile patterns with the classic look and feel of natural stone. And with VersaLock, installation is a snap!

© 2010 FloorBiz, Inc. All Rights Reserved

For more information on Shaw flooring, please click on the links below.

Flooring | Flooring Guide | Flooring Info | Flooring Forum