Pergo Flooring
Pergo Floors - The World's #1 Brand Of Laminate Floors
W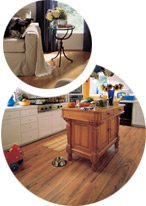 hen Pergo invented laminate flooring, it started a revolution. At last there was a completely new type of flooring, a truly worry-free way to achieve the beautiful look you want. Since then, we've spent nearly a quarter-century making our revolutionary invention even better. The leader in both design and laminate technology, Pergo remains the world's biggest seller, by far. Lately other brands have tried to cash in on the Pergo laminate revolution. But, as you'll see, they have a lot of catching up to do.
Just Like Pergo? Nope, Not Even Close!
Just pick a room - kitchen, living room, foyer, even the bath. Pergo has a floor for you. Compare Pergo flooring to any other laminate, or to any other flooring material, for that matter. With its combination of superior engineering, quality materials, worry-free performance and any-room versatility, Pergo surpasses them all. And when it comes to the designs, well, it's easy to see how Pergo stands out in that department.

No other brand has these advantages. Pergo has the broadest range of designs - No other brand of laminate flooring can match the variety of looks you're able to achieve with Pergo. You'll run out of rooms long before you run out of beautiful choices. Pergo is the world's best selling laminate flooring. It combines beauty, durability, and easy care, so you never have to worry about your floor. The top layer of Pergo flooring is a photo reproduction with a protective laminate coating. Underneath is a wood based core and a backing for added support and stability. The construction of Pergo allows the product to look like anything.

Pergo is currently available in a variety of wood, stone, tile and unique designs. Pergo is a floating floor-it is not attached to the sub-floor. Instead, the planks or tiles are installed using a unique tongue and groove system to create a single, durable, easy to maintain floor surface. Pergo has all the beauty and benefits of a hard surface flooring, with none of the challenges associated with caring for the floor. Each Pergo plank and tile consists of three basic components, which are bonded together under extremely high pressure and heat:
Wear resistant decorative surface layer: Resists indentations, stains, heat, fading, and surface moisture.

Moisture-resistant core material: Helps resist dents, heat and moisture.

Balanced backing layer: Provides added support.

Whatever your style, Pergo has a beautiful floor for you. No other brand offers such a wide range of designs, making it the perfect choice for any room in your home. Pergo laminate flooring is incredibly durable and easy to care for, keeping its beauty year after year. And all Pergo floors are backed by a warranty against staining, fading, wear through and water damage. Pergo LusterGardPlus is an exclusive patented surface additive that provides greater protection against scuffing and dulling, keeping Pergo floors looking newer, longer.

Pergo flooring is generally less expensive to install than other flooring options because it doesn't require significant subfloor preparation. It is easy to install over most existing flooring materials such as ceramic, tile, vinyl and hardwood. In addition, there is a Pergo floor to fit nearly every budget.
© 2010 FloorBiz, Inc. All Rights Reserved
For more information about Pergo flooring, please click on the links below.

Flooring | Flooring Guide | Flooring Info | Flooring Forum