cork underlayment
Sound/Acoustic Insulation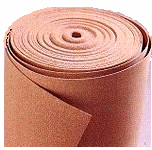 Cork underlayment is quickly becoming the best choice for solving sound control issues involving the installation of hard surfaces in condo and apartment buildings. Cork underlayment has such outstanding acoustical properties that it will meet or exceed the multi-level code requirements set out in the bylaws of most homeowner associations. Cork underlayment is generally needed because these buildings have in their bylaws a stipulation that a specific type of sound control be used before allowing a hard surface to be installed. The effectiveness is due in large part to the over 100,000,000 air cells per cubic inch which act as a sort of shock absorber and sound muffler.
Crack Suppression Barrier

Cork underlayment can be used under ceramic tile, laminate and hardwood, as well as marble and natural stone flooring. It is especially beneficial when used as a crack suppression barrier that will effectively prevent settling cracks that occur in the slab from affecting tile or marble. Be sure and use an adhesive that is specifically recommended by the manufacturer to install this product so as not to void any implied warrantees that may be in force. The extremely unique cellular makeup of this product contributes to its unparalleled thermal insulation and resilience, as well as the unequalled sound absorbency and added benefit of having excellent fire resistance qualities. These added benefits make this a natural choice for professional flooring installers of hard surfaces everywhere.
Environmentally Friendly Product

Cork underlayment is an environmentally friendly product which is derived from the bark of the cork oak tree. It is consistently a product that actually preserves the integrity of the tree, allowing it to live on and eventually produce more raw material in approximately every 9 years or so. The typical life span of an oak tree is well over 100 years, so this process can continue for a very long time. Waste from the manufacture of this product is used to make other products. Let's get this straight then. Successful as a sound and crack suppression barrier, environmentally friendly, no harmful out-gassing, easy to install... Is it any wonder then, why this product is so popular with flooring professionals the world over.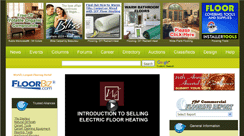 Since 1996, FloorBiz has been dedicated to providing the most comprehensive flooring environment for every aspect of our ever-growing industry. Our up-to-date Flooring News Section will keep you abreast of the many newsworthy events and important changes affecting both businesses and consumers alike. Our exhaustive Flooring Directory has every conceivable flooring related product or service provided by the more than 20,000 businesses throughout the world currently registered on FloorBiz.

Our Career Section is filled with current employment opportunities, and our Classified Section provides a viable and effective outlet for businesses to sell excess inventory and closeouts as well as running-line merchandise and business services. Our Events Section will keep you well informed of the many trade shows and training seminars occurring throughout the year. These are just some of the many features FloorBiz provides. We invite you to register your company for free and start enjoying the many benefits provided by - The World's Largest Flooring Portal!

© 2010 FloorBiz, Inc. All Rights Reserved



For more information on this and other hardwood products... FloorBiz is your starting point to all the important flooring sites on the internet.

Flooring | Flooring Guide | Flooring Info | Flooring Forum