acrylic impregnated wood floors
What is Acrylic Impregnated Wood Flooring?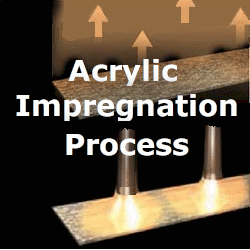 Acrylic impregnated wood flooring involves a state-of-the-art process whereby the natural sugars and saps in the veneer are either chemically removed or 'vacuumed' out leaving a raw surface devoid of cellular structure. The surface is then 'impregnated' with a liquid acrylic such as methyl methacrylate (MMA). When the liquid acrylic enters the vacant cells, it replaces the natural sugars and saps mentioned earlier.
Acrylic impregnated wood floors have a surface that is up to 3 times stronger than traditional finishes on natural wood which translates into less scratching, denting and wear over the life of the product. Most manufacturers will offer a lifetime 'wear-out' warranty of the wear surface meaning that if the floor ever fails, it gets replaced. Most liquid acrylics can be tinted with dye to produce a striking variety of colors to choose from which will all be UV resistant and through the entire wear surface which means the color will last as long as the floor itself.
The exceptional durability of this type of floor makes it an excellent choice for heavy traffic areas in homes as well as commercial applications. By following the general maintenance steps below, these floors can look showroom-new long after the installation.
Cleaning and Maintenance
The following steps are provided as a general guide for care and maintenance. The manufacturer may require additional procedures which you will need to follow.
Regularly vacuum (soft bristle nozzle) and dust mop

Use mats or throw rugs in front of sinks, doorways and other high traffic areas

Always use rubber or felt protectors on chair and table legs

Avoid prolonged walking with high-heeled shoes

Immediately wipe-up any water spills
For more information on this and other types of hardwood flooring, please visit our Wood Floors Directory.
© 2007 FloorBiz, Inc. All Rights Reserved
Flooring | Flooring Guide | Flooring Info | Flooring Forum