rating ceramic tile
Ceramic Tile Wear Ratings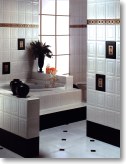 The current rating system for ceramic tile in place today is really the only reliable gauge for consumers to use in determining wear expectations for a particular tile choice. The Porcelain Enamel Institute (PEI) has developed a rating scale that can effectively guide a consumer through the arduous process of choosing the right tile for lets say a family room or busy kitchen area. This rating system is recommended by the American Society Testing Materials (ASTM).
The PEI Ratings and wear descriptions are listed below:

PEI Class 1 Rating (No foot traffic) - Recommended for wall use in residential and commercial applications only.
PEI Class 2 Rating (Light traffic) - Recommended for both wall use and bathroom floor applications only.
PEI Class 3 Rating (Light to moderate traffic) - Recommended for countertops, walls and floors where normal foot traffic is expected.
PEI Class 4 Rating (Moderate to heavy traffic) - Recommended for all residential applications as well as medium commercial and light institutional.
PEI Class 5 Rating (Heavy to extra heavy traffic) - Recommended for all residential as well as heavy commercial and institutional applications.
Most porcelain tiles on the market today will have a PEI rating of 5, which certainly makes them the hardest wearing of any tile you could possibly choose. Although this rating system is an important tool for consumers, it is only one of many factors to consider when making the right flooring choice. Since it only addresses wear issues only, what about the factors determining quality? This is discussed in the article 'Ceramic Tile Quality'.

© 2010 FloorBiz, Inc. All Rights Reserved



For more information on this and other flooring products... FloorBiz is your starting point to all the important flooring sites on the internet.