laminate floors
Laminate Overview
Laminate floors are more popular today than ever before. This is due in large part to the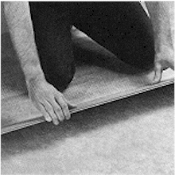 improvements in not only more natural-looking design characteristics but the overall strength and wearability of the flooring as well. Laminate floors made years ago experienced problems such as poor design features, surfaces that could be easily scratched and they were adversely affected by moisture. As research and technology improved, so did the reputation of this somewhat new edition to the flooring family.
Laminate floors are manufactured with the following common characteristics, and although all laminate flooring is made basically the same, there are vast differences in the quality of the final product from manufacturer to manufacturer. You'll need to shop carefully to find the right choice for your family. Below is a list of the different characteristics that make up this flooring as well as a description of what to look for when deciding which to purchase.
Backing - Most manufacturers will use a thin layer of melamine to seal the back of their products. Manufacturers such as Balta however, use a much heavier and thicker layer of melamine which contributes to the overall stability of their product. Be sure and compare backings as this is one area that is typically overlooked when comparisons are made.

Core Material - Again, most manufacturers use a fiberboard for their core material. The more higher density coreboard, the stronger the product. Compare densities and choose a product made of HDF (high density fiberboard). One test that is worth performing is where you take a variety of different samples and soak them in water overnight. This will determine how the core responds to moisture. Balta for instance, offers a water warranty because their core material is of the highest quality.

Wear Layer - All manufacturers finish their products with a wear layer to protect against scratches and overall wear. This is where the similarity ends, however. Wear ratings are provided by the industry to guide the consumer in selecting a product suitable for the particular needs of his or her family. Generally, most products will come with a AC-3 rating. This means that this specific flooring is suitable for either heavy residential or light commercial use. However, what most consumers aren't aware of is that the more superior products will have a rating of AC-4. This means that this particular flooring is recommended for heavy commercial use. If it is suitable for this type of wear environment, think how well it will perform in your home.

Surface Texture - This characteristic truly separates the 'men' from the 'boys'. One of the greatest challenges has always been trying to make something look like real wood that wasn't real wood to begin with. Take samples home and view them in the environment that they will be installed. Are they textured like 'real' wood or do they look 'plastic' and artificial. Balta excels in this department, as all of their products look and feel like actual hardwood. And always remember, the heavier the texture and grain, the more slip resistant the flooring will be.

Locking Mechanism - If you want your flooring to stay together for the life of the product, you must be particular about the type of locking mechanism the manufacturer is using. For instance, how easily do the pieces fit together? Does it take a high degree of force to lock them together, or do they engage easily? Keep this important point in mind. The thicker the locking mechanism, the stronger the locking mechanism. Make sure they are 'isometrically' joined together (2 locking rows in each mechanism that when engaged, produce counter pressure on each other to produce a strong and water-tight connection) and that the seam is tight and the boards surfaces are flat with no lippage from piece to piece.
The above guidelines are provided to assist you in selecting the right product for your needs. For more information as well as an exhaustive directory of manufacturers and suppliers, please visit our flooring directory and guide.
© 2010 FloorBiz, Inc. All Rights Reserved
Flooring | Flooring Guide | Flooring Info | Flooring Forum