karastan carpet
Karastan Carpet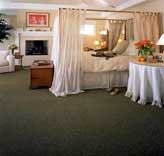 At Karastan, we've been creating some of the world's most beautiful rugs for almost three-quarters of a century now. Yet, ever since April 8, 1928, when the first Karastan rug came off the loom at 2:02 p.m., we've never once stopped getting excited about our dual roles as leader in both manufacturing and interior design innovations.

The Karastan Axminster loom was the first power loom to produce a rug with a soft back that would show the pile yarns through the back just like the hand-woven originals from the Orient. Even so, it was only after the perfection of non-fading dyestuffs and a special "lustre wash," giving the rugs the realistric highlights and mellowness of the Oriental originals, that Karastan was born.

Little wonder that the first thing that comes to mind when people say Karastan is rugs. But there has almost always been another side to Karastan, too: that of broadloom carpets, which we first started producing back in the 1930s. Not only did we play a big part in introducing American households to the very concept of walking in comfort on our soft, luxurious carpets; we provided the impetus for mass appeal by introducing yet another innovation in 1948: our Kara-loc method of weaving.

Initially limited to the production of plain velvet and twist styles, Kara-loc eventually produced an explosion of fashion innovations, including mult-colored designs, along with cut-and-loop effects at least 15 years ahead of the rest of the industry. The innovative method made possible the production of highly styled, quality carpets at prices affordable to average consumers.

Only the drive behind our innovative spirit stays the same.

At Karastan, we're proud of our history. You can hear it in our voices. You can feel it in our fiber. You can see it in the patterns of our carpets and rugs.

What you won't ever see, though, is Karastan standing still. That's why, as proud as we are of our past, we keep searching for new ideas, new colors, new fibers, and new machines to bring it all together in our future. That's why we keep designing and weaving together whole new collections, like Colonial Williamsburg, introduced in 1983; and the Loft Collection and the Antique Legends Limited Edition Collection, both introduced in 2001.

Just as time keeps moving ever forward, so, too, does the spirit of Karastan innovation.


See Also: Karastan Carpet Profile
© 2007 FloorBiz, Inc. All Rights Reserved
Flooring | Flooring Guide | Flooring Info | Flooring Forum