aladdin carpet
Aladdin Carpet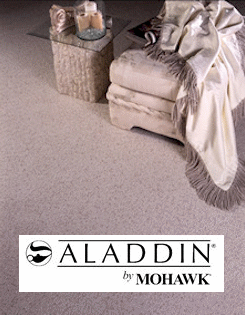 Aladdin Carpet by Mohawk brand is a collection of Mohawk products that represent our commitment to value and function. Products in this category are targeted for active lifestyles. Generally these products are suitable for home offices and family rooms. You will find a wide range of Aladdin products from many different fiber and yarn types such as nylon, PET polyester, and polypropylene each with its own characteristics and price points.

Aladdin began in 1958 as a manufacturer of small bathroom and area rugs. In 1968, Aladdin expanded into room-size rugs and broadloom carpet. By 1970, Aladdin had constructed the largest carpet plant under one roof vastly improving quality and productivity. The 1980's brought growth at an unprecedented rate. Aladdin began to build a distribution network to supply thousands of retailers across the United States.

The acquisition of Aladdin by Mohawk Industries in 1994 provided Mohawk with the backbone of a distribution network and a product line that complemented Mohawk's other brands. Today Mohawk offers products covering every price point, fiber type, & styling option and operates one of the largest & most effective trucking companies in the world. Below is a partial list of some of of our most popular residential styles.

Casual styling with an Aladdin taditional value describe Nautical Bliss. This 100% P.E.T. BCF frieze comes in your choice of 24 solid colors and 8 berber flecks for maximum versatility. Naturally stain resistant, 3M Scotchgard is added to repel soil for easy cleanability. An ideal choice for most rooms of the home, Nautical Bliss will always make for a happy customer.

Floorcovering by Aladdin for a room you know will need replacing in a short amount of time is hard to find. Real Deal makes that search easy. This textured cut pile is made of twisted and heatset polypropylene for excellent stain resistance and cleanability and is designed to fit the tightest budget. Offered in 12 basic but highly usable colors Real Deal is a great choice in budget carpet.

Naturally fashionable, inherantly stain resistant, and environmentally friendly, what more could you want in your new carpet from Aladdin Carpet. Crafted of stain resistant P.E.T. fiber, Coastal Charm is also treated with 3M Scotchgard for superior soil resistance. This cut pile frieze berber captures the look of today's most popular styles in 12 sophisticated shades of beige for that perfect casual feel.

Combining beauty and utility, Pro Style is a new BCF nylon saxony available from Aladdin. A classic level surface and 35 carefully chosen solid shades are protected from stains and soil by 3M's Scotchgard Stain Release. Pro Style is the best choice for a practical, versatile, and affordable floorcovering.
See Also: Aladdin Carpet Carpet Profile
© 2008 FloorBiz, Inc. All Rights Reserved