Article Number: 14721

Emily Morrow Home Added as a Preferred Supplier to CCA Global Partners
Dalton, GA, February 21, 2019 – Emily Morrow Home is pleased to partner with CCA Global Partners, North America's largest floor covering retail cooperative, to supply luxury hardwood to their members.

Included in the full line of offerings are gorgeous hand-detailed planks in sizes up to 8-feet long and 9-inches wide, along with coordinating herringbone patterns. As tough as they are beautiful, Emily Morrow Home MorCore products have an enhanced 3.5 mm, sawn-face wear layer and scratch-resistant finish that makes them suitable for both residential and commercial interiors.

"CCA's Winter Convention in January gave us the opportunity to introduce Carpet One Floor & Home, ProSource, Flooring America, and Flooring Canada members to our full line of luxury hardwoods, which includes 12 new 2019 styles." says Emily Morrow Finkell, founder and CEO of Emily Morrow Home. "In addition, we created an exclusive line of products for IDG members, which will be co-branded with the Louis A Dabbieri name."

"We take pride in offering a wide variety of products in our stores and the MorCore products are a great addition to our selection," says Charlie Dilks, Chief Product Officer at CCA Global Partners. "With interior designer insights, Emily Morrow Finkell has created a distinctive line of hardwood flooring that will appeal to residential and commercial customers looking for a luxurious style.

MorCore products will be available in CCA Global member locations starting in May 2019.

About Emily Morrow Home
Emily Morrow Home is a leader in the American hardwood flooring industry. Founded by Emily Morrow Finkell, the company offers high-quality, luxury hardwoods to retailers through select distributors and buying groups. All flooring products are sustainably harvested, constructed, and finished in the USA. Finkell is a member of the NWFA (National Wood Flooring Association); NWFA Verified from U.S. Renewing Forests; California Environmental Protection Agency Air Resources Board; Allied Member, American Society of Interior Designers; CMG; and SCS Certified Indoor Advantage Gold For more information, visit www.emilymorrowhome.com or Facebook, Twitter, Pinterest, Instagram, Google+.

About CCA Globa Partners
CCA Global Partners, Inc. is a privately held cooperative based in the United States with member businesses in the U.S., Canada, Australia, and New Zealand. For a quarter of a century, CCA Global has partnered with entrepreneurial businesspeople to create a cooperative powerhouse unmatched in the marketplace. With 15 independent business brands and more than 2,700 locations, CCA Global Partners is well positioned to positively impact the success of independent businesses. For more information on CCA Global Partners, go to www.ccaglobal.com.



Related News
Sunday, September 15, 2019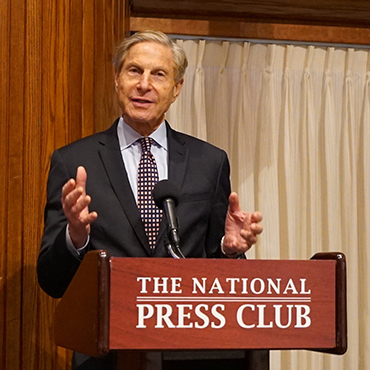 Howard Brodsky was the Keynote speaker at the National Press Club in Washington, D.C. Brodsky addressed more than 150 executives from multiple industries at the 2017 National Cooperative Issues Forum...read more