Article Number: 11600

Tectura Designs Introduces New, Contractor-Friendly 'Quick Ship Collection' of UltraFace Pavers
WAUSAU, Wis. – October 11, 2018 – Landscape contractors and installers in need of high-quality, low-cost pavers may now have a new go-to option. Tectura Designs' Quick Ship Collection of UltraFace pavers boasts industry-leading performance, with compressive strength averages of 9,500 PSI; an unbeatable value of $3.90 per square foot; and ready-when-you-are expediency, guaranteed to ship within four business days or less.

The Quick Ship Collection will be available in a common size, 24" square, and four of the most popular UltraFace colors, comprised of versatile, on-trend neutrals. For Tectura, the launch of the new collection was only a matter of time.

"Our goal is to deliver what no one else in the paving industry can, and to do that, we need to stay one step ahead," said Rodney Dombrowski, head of research and development for Tectura Designs. "The Quick Ship Collection fulfills a need for speed and cost-efficiency, without sacrificing on quality, and is a sign of our commitment to manufacturing bigger, faster and stronger products for our customers. Nothing is ever out of bounds."

The Quick Ship Collection comes on the heels of two other recent paving innovations from Tectura Designs, with its Thin Paver and Quattro Series. With the Thin Paver, architects and designers have the freedom of specifying a one-inch-thick paver that boasts the strength of its two- to four-inch thick counterparts, while the Quattro Series merges the look of porcelain with the strength of concrete thanks to the company's proprietary four-color blending technology.

A brand of Wausau Tile Inc., Tectura Designs proudly manufactures American-made terrazzo and terrazzo tile, custom precast concrete and a diverse line of mixed-material site furnishings. Its products can be found on Main Streets across the country and at iconic destinations ranging from Cleveland Public Square, to New York City's Times Square and Hudson Yards, to Saint Louis's Gateway Arch Plaza and the U.S. Capitol.

Visit tecturadesigns.com to see Tectura Designs' complete portfolio of premier paver styles and other architectural products.

About Tectura Designs
Tectura Designs is the premier provider of architectural products, including site furnishings, concrete pavers, custom precast concrete, custom precast terrazzo and terrazzo tile. Its premier products help the world's leading architects and designers bring their visions to life – and its custom capabilities offer near-endless solutions. Tectura Designs is a Wausau Tile Inc. brand. Learn more at tecturadesigns.com.

About Wausau Tile Inc.
Wausau Tile Inc. manufactures and markets architectural products under the brands Tectura Designs – which manufactures premium site furnishings, pavers, custom precast concrete, custom precast terrazzo, and terrazzo tile – and Wausau Made – which manufactures long-lasting, high-quality concrete and metal site furnishings. The company is guided by the legacy and values of founder Ed Creske, whose commitment to quality and unwavering dedication to personalized customer service helped forge lasting partnerships with many of the world's leading companies, architects and designers. For more than 65 years, Wausau Tile has shipped products from its headquarters near Wausau, Wisconsin, to nearly every corner the country – from Main Street U.S.A. to Times Square, from college campuses to professional sports facilities, and everywhere in between. Learn more at wausautile.com.



Related News
Sunday, May 19, 2019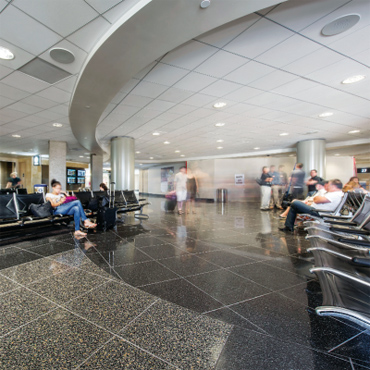 If you have a building or public space in need of a flooring upgrade, you may consider using terrazzo tile. A low-maintenance flooring option that's been around for decades, terrazzo is made by...read more
WAUSAU, Wis. – February 7, 2018 – Tectura Designs is expanding its vast selection of concrete rooftop and on-grade pavers for commercial architecture with the all-new Quattro Series, which will provide specifiers with unmatched strength and...read more