Article Number: 10539

3 Rugs Shine at Summer Markets: Meet Cambria, Dara and Greyson
Troy, N.C. — Capel Rugs' creative new rugs styles, featuring enhanced texture and versatile neutral colors, drew an enthusiastic response from retailers at the summer home furnishings markets in Atlanta and Las Vegas.

While overall traffic in Atlanta was slow, activity in Las Vegas -- particularly in the early days -- was strong, and in both locations, Capel Rugs generated good placements with its latest round of introductions. Winners included new fashionable collections that included rugs with a plush hi-lo feel, a fresh braided design and a variety of new texture-forward styles being shown to Atlanta and Las Vegas shoppers for the first time.

"Texture is so important in today's market," said Cameron Capel, president of sales and marketing for Capel Rugs. "It provides that added dimension that turns a shopper into a buyer."

Each of the new collections also offers a strong value, Capel added, providing additional appeal for consumers. "At every price point, consumers expect to receive a lot of 'style bang' and quality for their buck.

Leading the way for Capel Rugs at the summer markets was Cambria, a brand-new handloomed transitional collection with rich, monochromatic colorways, a hi-low pile and intricate detailing. Made in India of a viscose-wool blend, Cambria features a double-back construction with subtly layered hues and overtufted details. Four colorways are available, including pearl, fog, azurine and sand. A 5' x 8' rug may retail for $1,149.

"Cambria drew rave reviews for us at both markets," Capel said. "This design has an elegant, fresh transitional spirit that makes it very adaptable to a wide range of décor and room settings. And it's well priced, which enhances its appeal."

Capel Rugs' second introduction for the summer markets was Dara, a collection of flat woven, 100% undyed wool designs in three neutral colorways -- flint, smoke and natural. Made in India, each pattern features a hi-low texture with a border of fringe. A 5' x 8' rug may retail for $449.

"Dara uses a 'popcorn' stitch to create engaging triangle and diamond patterns," Capel said. "The neutral colors are right on trend and, with its macramé-like fringe, this design also conveys interesting texture and depth."

Rounding out Capel Rugs' latest introductions was Greyson, a contemporary-leaning collection with a lush pile distinguished by repeating geometric patterns and clever combinations of light and dark tones. Made in Egypt of 100% olefin, Greyson features a machine-made, Wilton-weave construction enhanced with artistic carving and a drop stitch for enhanced color separation. Three colorways are available -- cobblestone, storm and gunsmoke. A 5'3" x 7'8" rug may retail for $299.

"Greyson has a value that you can feel with its high, thick pile," Capel said. "It delivers a lot of style and texture at a very affordable price."

In addition to these three imported collections, Capel Rugs also expanded its popular program of made-in-the-USA rugs with a new braided design called Woodbridge.

Also doing well for Capel Rugs at the summer markets were an assortment of collections recently introduced in High Point. Winners included the new Kashan model, a machine-woven transitional design added to the popular Fuego collection; new additions to Metropolis, a Wilton-woven collection of transitional and traditional designs in 100% New Zealand wool; Astbury, a delicately distressed transitional design in 100% New Zealand wool; and Makrana, a distressed, traditional pattern in a wool and viscose blend.

"We're starting to see more demand for our step-up hand-knotted and hand-woven designs," Capel said. "They offer retailers an opportunity for higher margins, while still delivering a strong value to consumers."

While business so far this summer has been sluggish for many retailers, Capel Rugs is well positioned for an active fall, Capel said. "We continue to strengthen our line so that retailers have the range of styles, price points and constructions they need to excite and motivate shoppers."

About Capel Rugs
Based in Troy, N.C., Capel, Inc. offers more rugs in more categories than any other area rug company, including original braided rugs and woven rugs made in North Carolina for 100 years, the finest hand knotted rugs, best selling hand tufted rugs, innovative outdoor rugs and kids rugs. To see more from Capel Rugs' program, visit CapelRugs.com.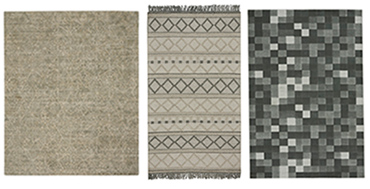 (left to right): Cambria in sand, Dara in smoke and Greyson in gunsmoke.
---
---
Related News
Thursday, May 23, 2019