Article Number: 10211

Quick-Step Featured on Operation Build's I'm Coming Home Renovation
CALHOUN, Ga. November 10, 2017—Operation Build, A&E's home improvement series, has selected Quick-Step flooring for its nationally televised "I'm Coming Home" show, which is dedicated to providing lifestyle solutions for military heroes and their families.

For the project, Quick-Step donated Eligna Heritage Oak laminate flooring, a weathered look with a natural authentic texture in an extra-long plank style. It was installed in the Concord, N.C. home of Susan and Mark McClamrock. Their 22-year-old son, Army Pfc. James F. McClamrock, was killed in action in Iraq in 2010.

"We are so grateful that we could help the McClamrocks and pay tribute to their brave son through our involvement with 'I'm Coming Home,'" said Jason Sims, director of brand marketing, distribution. "Operation Build is about Americans helping Americans, and in this case, it is neighbors helping neighbors. Quick-Step flooring is made in North Carolina by American craftsmen."

The makeover of the McClamrock home included several rooms and the relocation of their master bedroom downstairs to make it easier on Susan McClamrock, who has recently suffered some health issues.

Episode one of Operation Build's "I'm Coming Home" featuring the McClamrock renovation aired on A&E Network on November 4. It will air again on FYI Network at 7:30 a.m. on November 11. Episode two will air on A&E at 7:00 a.m. on November 11 and on FYI at 7:30 a.m. on November 18.

MUSE Residential was the designer on the project, and Todd Monroe of JJ Haines and Travis Spicer of Integrity Flooring donated their time for installation.

To learn more about Quick-Step, visit quick-step.com.

About Quick-Step
Quick-Step is a market leader in flooring, providing solutions for a wide variety of interiors. Beautiful, durable and virtually maintenance-free, Quick-Step puts the style in lifestyle. The Quick-Step brand is a division of Mohawk Industries. Mohawk Industries is listed on the New York Stock Exchange and is a Fortune 500 company. Visit us.quick-step.com for more details.



Related News
Monday, September 24, 2018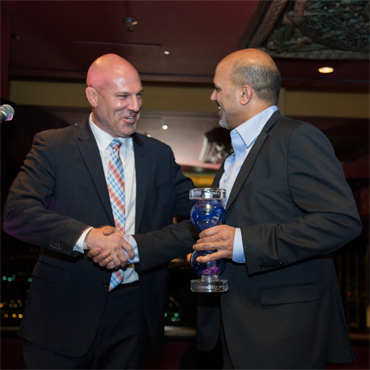 CALHOUN, Ga. February 5, 2018—Quick•Step® recently named TORLYS as winner of its "Step Forward" Partner Award at The International Surface Event. TORLYS is Quick•Step's exclusive distributor in...read more