Article Number: 10086

theMART Expands Design Center and LuxeHome Leadership
Chicago – June 29, 2017 – Merchandise Mart Properties, Inc. (theMART) announced today promotions and the expansion of roles within the executive management of its Design Center and LuxeHome business. These changes within the leadership of theMART's showroom businesses reflect the demands of the sustained growth of the Design Center, the world's largest resource for custom home furnishings and interior design, and LuxeHome, the world's largest collection of premier boutiques for home building and renovation.

Changes to management roles include:

• Toni McIntosh, Vice President of Leasing at theMART, will now also be responsible for overseeing the LuxeHome and Design Center businesses. McIntosh is uniquely qualified for this new responsibility having worked in various sales, leasing and marketing roles with Merchandise Mart Properties, Inc. over the past 15 years.

• Susan McCullough, Senior Vice President at theMART, has assumed the additional responsibility of overseeing marketing for LuxeHome. With this change, McCullough will manage all showroom marketing in the building to ensure consistent messaging and promotion of our showroom businesses. McCullough will continue to direct all sales and marketing for theMART's entire trade show portfolio.

• Blair Loftspring has been promoted to Managing Director of Leasing and Marketing. In this expanded role, Loftspring will assist McIntosh in the leasing of the LuxeHome business while continuing to produce and implement LuxeHome's marketing programs.

• Beth Hicks has been hired as Managing Director of Marketing for Design Center and the Casual Market, and joined theMART in November 2016.

Photo caption (L – R): Toni McIntosh, Vice President of Leasing and Susan McCullough, Senior Vice President

"We are excited to have such a talented team to drive the continued growth of our Design Center and LuxeHome businesses and, most importantly, to contribute to the continued success of our showroom partners," said Myron Maurer, Chief Operating Officer, theMART. "Our showroom leasing and marketing teams are strong, experienced and committed to the continued success of theMART's showroom businesses.


About theMART:
One of the largest commercial buildings in the world, the 4.2 million SF Merchandise Mart (theMART) is in Chicago, IL along the Chicago River. Completed in 1930, the building continues to meet the changing needs of the office and showroom businesses it serves. As a Gold-EB OEM LEED certified building, theMART is committed to creating and maintaining sustainable environments. theMART is owned by New York-based Vornado Realty Trust, a fully integrated, publicly traded, real estate investment trust (REIT) and one of the largest owners and managers of commercial real estate in the United States with a portfolio of over 45 million SF.




Related News
Tuesday, September 25, 2018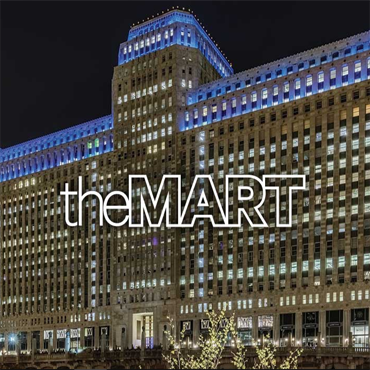 Chicago (July 31, 2017) — The Merchandise Mart (theMART), home to North America's largest collection of outdoor furnishings and decor, is hosting Casual Market Chicago on Tuesday, Sept. 12 through Friday, Sept. 15, 2017. The long-standing event connects retailers with...read more